CAT | Database
Both MariaDB and Percona Server are forks of MySQL and strive to be drop in replacements for MySQL from a binary, api compatibility, and command line perspective.
It's great to have an alternative to MySQL since you never know what might happen to it given that Oracle bought it for 1 billion dollars. In this blog post I set out to see if these MySQL forks would work 100% with AppDynamics for Databases. If you're not familiar with the AppDynamics for Databases product I suggest you take a few minutes to read this other blog post.
The Setup
Getting both MariaDB and Percona Server installed onto test instances was pretty simple. I chose to use 2 Red Hat Enterprise Linux (RHEL) servers running on Amazon Web Services (AWS) for no particular reason other than they were quick and easy to get running. My first step was to make sure that MySQL was gone from my RHEL servers by running "yum remove mysql-server".
Installing both MariaDB and Percona Server consisted of setting up yum repository files (documented here and here) and running the yum installation commands. This took care of getting the binaries installed so the rest of the process was related to starting and configuring the individual database servers.
The startup command for both MariaDB and Percona Server is "/etc/init.d/mysql start" so you can see that these products really do strive for direct drop in adherence to MySQL. As you can see in the screen grabs below I ended up running MariaDB 10.0.3 and Percona Server 5.5.31-30.3.
Connected to each of these databases were 1 instance of WordPress and 1 instance of Drupal in a nearly "out of the box" configuration besides adding a couple of new posts to each CMS to help drive a small amount of load. I didn't want to set up a load testing tool so I induced a high disk I/O load on each server by running the UNIX command "cat /dev/zero > /tmp/zerofile". This command pumps the number 0 into that file as fast as it can basically crushing the disk. (Use Ctrl-C to kill this command before you fill up your disk.)
The Monitoring
Getting the monitoring set up was really easy. I used a test instance of AppDynamics for Databases to remotely monitor each database instance (yep, no agent install required). To initiate monitoring I opened up my AppDynamics for Databases console, navigated to the agent manager, clicked the "add agent" button, and filled in the fields as shown below (I selected MySQL as the database type):
My remote agent didn't connect the first time I tired this because I forgot to configure iptables to let my connection through even though I had set up my AWS firewall rules properly (facepalm). After getting iptables out of the way (I just turned it off since these were test instances) my database monitoring connections came to life and I was off and running.
The Result
Taking a look at all of the data pouring into AppDynamics for Databases I can see that it is 100% compatible with MariaDB and Percona Server. There are no errors being thrown and the data is everything that it should be.
The beauty of my induced disk I/O load was that just by clicking around the web interface of WordPress and Drupal I was getting slow response times. That always makes data more interesting to look at. So here are some screen grabs for each database type for you to check out…
If you're currently running MySQL you might want to check out MariaDB and Percona Server. It's possible that you might see some performance improvements since the storage engine for MariaDB and Percona is XtraDB as opposed to MySQL's InnoDB. Having choices in technology is a great thing. Having a unified monitoring platform for your MySQL, MariaDB, Percona Server, Oracle, SQL Server, Sybase, IBM DB2, and PostgreSQL database is even better. Click here to get started with your free trial of AppDynamics for Databases today.
Link to this post:
database explain, database monitoring, db2, extradb, IBM, innodb, mariadb, mysql, Oracle, percona server, postgresql, sql server, sybase
The other day I had the opportunity to speak with a good friend of mine who also happens to be a DBA at a global Financial Services company. We were discussing database performance and I was surprised when he told me that the most common cause of database performance issues (from his experience) was a direct result of contention on shared storage arrays.
After recovering from my initial surprise I had an opportunity to really think things through and realized that this makes a lot of sense. Storage requirements in most companies are growing at an ever increasing pace (big data anyone?). Storage teams have to rack, stack, allocate, and configure new storage quickly to meet demand and don't have the time to do a detailed analysis on the anticipated workload of every application that will connect to and use the storage. And therein lies the problem.
Workloads can be really unpredictable and can change considerably over time within a given application. Databases that once played nicely together on the same spindles can become the worst of enemies and sink the performance of multiple applications at the same time. So what can you do about it? How can you know for sure if your storage array is the cause of your application/database performance issues? Well, if you use NetApp storage then you're in luck!
AppDynamics for Databases remotely connects (i.e. no agent required) to your NetApp controllers and collects the performance and configuration information that you need to identify the root cause of performance issues. Before we take a look at the features, let's look at how it gets set up.
The Config
Step 1: Prepare the remote user ID and privileges on the NetApp controller. The following commands are used for the configuration.
useradmin role add AppD_Role -a api-*,login-http-admin
useradmin group add AppD_Group -r AppD_Role
useradmin user add appd -g AppD_Group
Note: Make sure you set a password for the appd user.
Step 2: Configure AppDynamics to monitor the NetApp controller. Notice that we configure AppDynamics with the the username and password created in step 1.
 Step 3: Enjoy your awesome new monitoring (yep, it's that easy).
The Result
After an incredibly difficult 2 minutes of configuration work we are ready for the payoff. In the AppDynamics for Databases main menu you will see a section for all of your NetApp agents.
Let's do a "drill-up" from the NetApp controller to our impacted database. Clicking into our monitored instance we see the following activity screen.
By clicking on the purple latency line inside of the red box in the image above we can drill into the volume that has the highest response time. Notice in the scree grab below that we have a link at the bottom of the page where we can drill-up into the database that is attached to this storage volume. This relationship is built automatically by AppDynamics for Databases.
Clicking on the "Launch In Context" link we are immediately transfered to the Oracle instance activity page shown below.
In just the same manner as we can drill-up from storage to database, we can also drill-down from database to storage. Notice the screen grab below from an Oracle instance activity screen. Clicking on the "View NetApp Volume Activity" link will launch the NetApp activity screen shown earlier for the volumes associated with this Oracle instance. It's that easy to switch between the views you need to solve your applications performance issues.
Imagine being able to detect an end user problem, drill down through the code execution, identify the slow SQL query, and isolate the storage volume that is causing the poor performance. That's exactly what you can do with AppDynamics.
Storage monitoring in AppDynamics for Databases is another powerful feature that enables application support, database support, and storage support to get on the same page and restore service as quickly as possible. If you have databases connected to NetApp storage you need to take a free trial of AppDynamics for Databases today.
Here's a short video demonstration of AppDynamics for NetApp…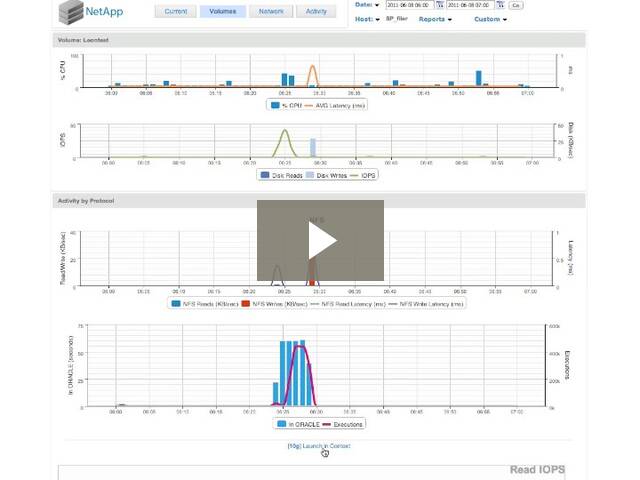 Link to this post:
Relational databases are still an important application component even in today's modern application architectures. There is usually at least one relational database lurking somewhere within the overall application flow and understanding the behavior of these databases is major factor in rapidly troubleshooting application problems. In 2009, Amazon launched their RDS service which basically allows anyone to spin up a MySQL, Oracle, or MS-SQL instance whenever the urge strikes.
While this service is amazingly useful there are also some drawbacks:
You cannot login and access the underlying OS of your database instance. This means that you can't use any agent based monitoring tools to get the visibility you really want.

The provided CloudWatch monitoring metrics are high level statistics and not helpful in troubleshooting SQL issues.
The good news is that you can monitor all of your Amazon RDS instances using AppDynamics for Databases (AppD4DB) and in this article I will show you how. If you're unfamiliar with AppD4DB click here for an introduction.
Setting Up A Database Instance In RDS
Creating a new database instance in RDS is really simple.
Step 1, login to your Amazon AWS account and open the RDS interface.
Step 2, Initiate the "Launch a DB Instance" workflow.
Step 3, select the type of instance you want to launch. In this case we will use MySQL but I did test Oracle and MS-SQL too.
Step 4, fill in the appropriate instance details. Pay attention to the master user name and password as we will use those later when we create our monitoring configuration (although we could create a new user only for monitoring if we want).
Step 5, finish the RDS workflow. Notice I called the database "wordpress" as I will use it to host a WordPress instance. Also notice that we chose to use the "default" DB security group. You will need to access the security group settings after your new instance is created so that you allow access to the database from the internet. For the sake of testing I opened up my database to 0.0.0.0/0 (not shown in this workflow) which allows the entire internet to connect to my database if they have the credentials. You should be much more selective if you have a real database instance with production applications connected.
Step 6, wait for your instance to be created and watch for the "available" status. When you click on the database instance row you will see the details populate in the "Description" tab below. We will use the "Endpoint" information to connect AppD4DB to our new instance. (At this point you can also build the database structure and connect your application to your running instance.)
Monitor Your Database With AppD4DB
Step 1, enable database monitoring from the "Agent Manager" tab in AppD4DB. Notice we map RDS "Endpoint" to AppD4DB "Hostname or IP Address" and in this case we are using the RDS "Master Username" and "Master Password" for "Username" and "Password" in AppD4DB. Also, since Amazon does not allow any access to the associated OS (via SSH or any other method) we cannot enable OS monitoring.
Step 2, start your new database monitoring and use your application. Here is a screen grab showing a couple of slow SQL queries.
The Results
So here is what I found for each type of database offered by Amazon RDS.
MySQL: Fully functional database monitoring.
Oracle: Fully functional database monitoring.
MS-SQL: All database monitoring functionality works except for File I/O Statistics. This means that we are 99% functional and capture everything else as expected including the ability to show SQL execution plans.
Amazon RDS makes it fast and easy to stand up MySQL, MS-SQL and Oracle databases. AppDynamics for Databases makes it fast and easy to monitor your RDS databases at the level required to solve your application and database problems. Sounds like a perfect match to me. Sign up for your free trial of AppD4DB and see for yourself today.
Link to this post:
Amazon RDS, database monitoring, mssql, mysql, Oracle, Performance Monitoring